Android Training by Industry Experts
Online Android Training in Hyderabad
;
Our Training Process

Android
- Syllabus, Fees & Duration
Getting Started with Kotlin
Define Kotlin
Environment Setup
First Program Concept
Kotlin Variable and Data Type
Kotlin Type Conversion
Kotlin Operator
Input/Output
Control Flow
if Expression
when Expression
for Loop and while Loop
Do while Loop
Return and Jump
Continue Structure
Exploring Kotlin Functions
Kotlin Function
Recursion Function
Default and Named Argument
Kotlin Lambdas
Higher-Order Function
Kotlin Inline Function
Exception Handling
Kotlin Try Catch
Multiple Catch Block
Nested Try Block
Kotlin Finally Block
Kotlin Throw Keyword
Overview of Collections
Mutable Array
Kotlin Collections
List: listOf()
mutableListOf()
Kotlin ArrayList
arrayListOf()
Map: mapOf()
Kotlin HashMap
hashMapOf() and mutableMapOf()
Set: setOf()
mutableSetOf() and hashSetOf()
Exploring Kotlin OOPs
Class and Object
Nested and Inner Class
Kotlin Constructor
Visibility Modifier
Kotlin Inheritance
Abstract Class
Kotlin Interface
Data and Sealed Class
Extension Function
Kotlin Generics
Introduction to Ranges
Integer Type Range
Working Ranges
Utility Function
Get Started with Kotlin Android
Install Android Studio
Hello World App
Android TextView and EditText
Kotlin Android Toast
Android Button and Custom Toast
Android Explicit and Implicit Intent
Android ListView and AlertDialog
Android Context Menu and Custom ListView
Android Options Menu and Android Popup Menu
Android WebView and SeekBar
TabLayout with FrameLayout and ViewPager
XML Parsing using DOM Parser and SAX Parsers
Android XMLPullParser
Download Android Syllabus
Course Highlights

Since 2001, Making IT Experts by Experts
Duration: 60 Hours

(Vary as per your skill)

Course Fee: INR 800/-

(Hourly)

Individual Live Classes (1:1)
Training on Your Time, Any Where
Access to Recorded Videos
Practical Internship on Projects
Placement Assistance by our jobsNEAR.in
Training/Internship Certificate

Featured Courses
Related Courses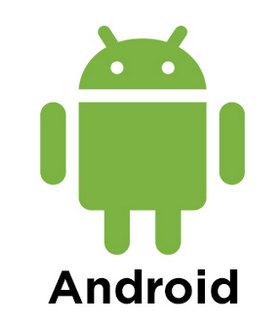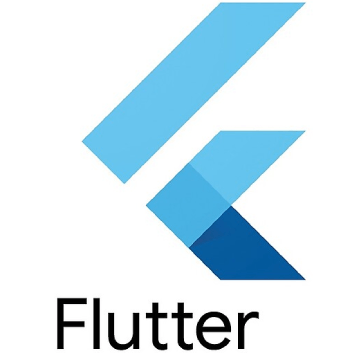 Android Jobs in Hyderabad
Enjoy the demand
Find jobs related to Android in search engines (Google, Bing, Yahoo) and recruitment websites (monsterindia, placementindia, naukri, jobsNEAR.in, indeed.co.in, shine.com etc.) based in Hyderabad, chennai and europe countries. You can find many jobs for freshers related to the job positions in Hyderabad.
Android Developer
Mobile Application developer
IOS/Android App Developer
Android Trainer
Mobile Application Architect
Android Kotlin Engineer
Kotlin Developer
Native Android Developer
Mobile Security Engineer
Lead Android Engineer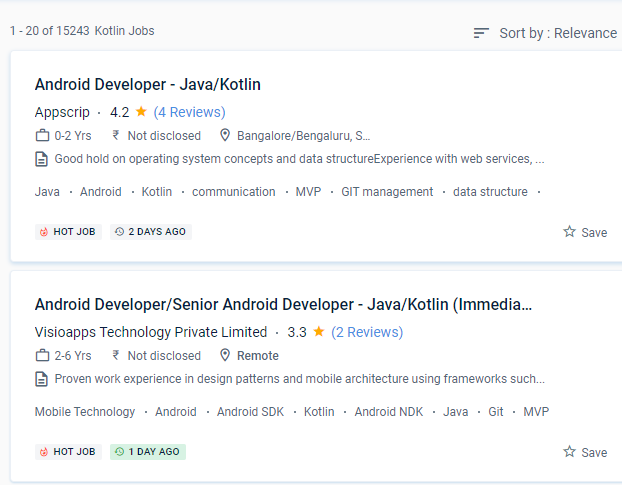 Android Internship/Course Details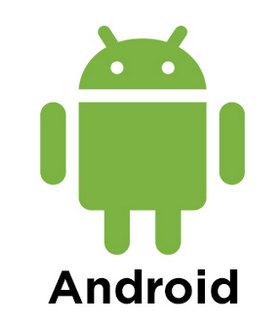 It is used in the manufacture of several well-known firms.Kotlin is proving to be a pragmatic, modern, and intuitive programming language, with Google declaring it to be the most popular language for android app developers. It also encourages test-driven development, which minimizes the number of bugs. Kotlin includes several simple ideas and strategies that can help developers cut needless code and build apps more quickly. When developing using Kotlin, you may prevent mistakes like NullPoint Exceptions. Many ideas, including Android Studio and a variety of alternative SDKs, support it, and more will undoubtedly be added in the future. Developers that utilize mobile app development can use a single codebase for both iOS and Android apps. The library needed to create Kotlin Apps is quite tiny, and Kotlin compilation times are already comparable to Java. Since the platform was originally set up, android apps have been rolling in thick and fast through Nestsoft android online training in Hyderabad. The most effective aspect of the apps was that they were most useful and entertaining. .
Success Stories
The enviable salary packages and track record of our previous students are the proof of our excellence. Please go through our students' reviews about our training methods and faculty and compare it to the recorded video classes that most of the other institutes offer. See for yourself how TechnoMaster is truly unique.
Very good teaching and best experience ever had. Friendly mam! Learned python machine learning.
I am very happy that I have chosen Nestsoft Technologies for my SEO/digital marketing training. It is a good experience to feel like being in an IT company while getting training. Thanks to Nestsoft Technologies and all its faculties for all the efforts.
I am very relieved at the experience of learning at Nestsoft Technologies, which has helped me to bring my skills up and give me a better path, and I am very satisfied with the faculty that lead me to complete the course. Thanks to Nestoft
I just did ten day course here on python machine learning and it was a good experience for me. Communication quality was great.
Hii.My self Siddiq P.A, I have done Seo/Digital Marketing Training in Nestsoft Technologies. it absolutely was an awesome expertise for me. because my trainer gave full support for me and that they gave the explanation for all my doubts patiently. i would like to thank my trainer and also thanks Nestsoft Technologies.
I had a best knowledge in Python Machine Learning and best internship with them, these guys are providing best classes with a minimum time.
Most institutes offer only a custom based theory training .But nest soft offered different..soon I joined with them including training and internship .after 3 months training they given me lot of practical projects through internship .I recommend everyone Nestsoft who think about the serious practical training in Digital marketing and SEO
Hi, this is Abdul Rashad, I did PHP course at Nestsoft Technologies. I learned heaps from my trainer also I impressed with their teaching. They take categories with their time period comes. thank you so much.
Best internships on python, machine learning, django
Well python class, machine language etc
Studying with Nestsoft Technology is valuable and increases my knowledge in digital marketing and SEO. Nestsoft Technology offers its students a blend of theory and practical experience. The quality of training is exceptional.
Myself Riya Sara Rejy. i would like to create a career in Facebook coaching, so I joined coaching at this institute. I learn many techniques from this institute. many thanks most Sreena miss for your effort.
We have achieved a very level of knowledge from here about python and Machine Language within a short period of time.This was very helpful for our future .
I am very happy that I have chosen Nestsoft Technologies for my PHP training. It is a good experience to feel like being in an IT company while getting training. Thanks to Nestsoft Technologies and all its faculties for all the efforts.
Nestoft Technologies offered practical-based training on this SEO / Digital Marketing and Project Exposure. The training experience was very different and unique from any training organization. Thanks to Nestsoft Technology for all the support and concern.
There are many institutes that are trained in Seo , but Nestsoft Technology is different as they and provide a professional environment. This experience enabled me to work at an experience level, get a position as a Seo and successfully launch my career.
I had done seo digital marketing training on real websites from the expert of kerala. Best classes and friendly trainer.
Well python class, machine language etc
I did my internship at Nestsoft Technologies it had been extraordinary. I learned PHP, digital marketing and web designing. Thanks Nestsoft
I am very happy that I have chosen Nestsoft Technologies for my PHP training. It is a good experience to feel like being in an IT company while getting training. Thanks to Nestsoft Technologies and all its faculties for all the efforts.
It was a great experience to be with Nestsoft Technology. Training has greatly helped me improve my knowledge. Thank you Nestsoft.
Hi this is Muhammad. the faculties at Nestsoft is incredibly co-operative, They were responding to doubts terribly very effective way. i am happy with the trainers and with their training. In future, i'll proudly suggest my friends. I thank trainers for providing me the best coaching in Asp.net.
The experience of Nestsoft Technologies as an SEO / Digital Marketing intern was excellent. The faculty was a great help to us. They were highly qualified and specialized in subjects. Thank you for your help !!!!
I am very happy that I have chosen Nestsoft Technologies for my digital marketing training. The training is very good exposure for freshers to become skilled. The trainers are also well-experienced working professionals of Nestsoft Technologies, which is the highlight of the training. Thank you all for your help..!!!!
The classes are very good. The staff is well Experienced kind and friendly. I joined here with no knowledge of SEO, and now I have a better knowledge of digital marketing.
Nestsoft technologies helped me shape my career in digital marketing, and thanks to the highly qualified and friendly trainers, I must say this is the best digital marketing internship you can get.
List of Training Institutes / Companies in Hyderabad
Spark Infosys Address: Flat No :105, UDAYA VENSAR Apartment, Beside TCS E-PARK Lane,, Kondapur, Hyderabad, Telangana 500084 Phone: 088861 00031 , Website: www.sparkinfosys.com/
Website designer in Hyderabad, India Address: #501, Level 5, Plot No:57/99 & 50/109, Survey No: 78, Patrika Nagar, Madhapur, Hyderabad, Telangana 500081 Phone: 040 4027 3049 , Website: https://www.inovies.com/

IT Training Institute / Engineering College in Hyderabad
Hyderabad Institute Of Technology & Management Address: Gowdavelly Village, Medchal Mandal, Ranga Reddy District, Hyderabad, Telangana 501401 Phone: 084182 00074 , Website: www.hitam.org/
MLR Institute of Technology Address: Near Gandimysamma Police Station Road, Dundigal, Quthbullapur, Hyderabad, Telangana 500055 Phone: 096522 26061 , Website: www.mlrinstitutions.ac.in/
Vidya Jyothi Institute of Technology Address: Aziz Nagar, Hyderabad, Telangana 500075 Phone: 098490 14284 , Website: vjit.ac.in/

in the third century BCE, it was ruled by Ashoka the great, of the Mauryan empire. Their reign was followed by the Ikshvaku dynasty of Andhra. In 1321 AD, Warangal was conquered by Muhammad bin Tughluq, from the Delhi Sultanate. With the Telangana government looking to decentralise the IT sector through its Rural Technology Centres Policy-2016, cities like Warangal, Khammam, Nizamabad, etc have become potential hotspots for the IT industry. 25 acres adjacent to two town police station. to start with the IT Tower will accommodate at least 15 companies. 5 crore for another tower after the completion of the first tower, it is learnt. .
Trained more than 10000+ students who trust Nestsoft
Join Now