Server Administration Training by Industry Experts
Online Server Administration Training in Delhi
;
Our Training Process

Server Administration
- Syllabus, Fees & Duration
MODULE 1
What is Server?
Client and Server Operating System
What are Workgroup and Domain?
How a Workgroup Environment is created
How a Domain Environment is created
Difference between Workgroup and Domain
Types of Role in Server
Overview of VMware Workstation
Creation of Server in VMware Workstation
MODULE 2
Understanding of Active Directory(AD) Service
Understanding of Domain Name System (DNS) Service
Check the Port Numbers related to Service
Troubleshooting using Ping and Telnet
Installing of Active Directory (AD) Service in Server
Creation of Domain Controller (DC)
Joining a PC to Domain Environment
Checking the health of Active Directory Service (AD)
Understanding services of Active Directory (AD)
Creation of Users & Group in Active Directory (AD)
Adding Users in the group in Active Directory (AD)
MODULE 3
NTFS Permission(Share & Security)
Configuring Read/Write/Modify & Special Permission
Understanding Explicit & Inherited Permission
Configuring Access Based Enumeration (ABE)
Configuring Shadow Copies & Home Folder
Installation of FSRM (File Server Resource Manager)
Applying Soft & Hard Quota on Folder
Applying File Screening on Folder
MODULE 4
Need of Group Policy & How Group Policy Works
User Policy & Computer Policy
Default Domain Policy & Default Domain Controller Policy
Group Policy Order and Precedence
Configuring Recycle Bin Policy & Wallpaper Policy
Configuring Audio Policy & Screen Saver Policy
Benefits of Organization Unit (OU) & Creation of OU
Blocking Inheritance & Enforce Policy
Software Installation using Group Policy
Group Policy Backup & Restore
Prevent Policy Application using WMI Filter
Domain Password Policy & Fine Grain Password Policy
Configure Password Length, History & Complexity
Account Lock Policy and Account Lock Troubleshooting
Delegate access to User/Group for User Management
Performing Mapped Drive using Group Policy
Group Policy Troubleshooting steps
MODULE 5
Need of Additional Domain Controller(ADC) & Creation of ADC
Multi-Master Replication between DC & ADC
Understanding of RODC (Read-Only Domain Controller)
Replication between DC & ADC
Checking ADC when DC is down
Creation of Site & Subnet
Understanding of Replication Schedule
Replication between Domain Controllers (DC & ADC)
Intra-Site & Inter-Site Replication
Understanding of IFM (Install from Media)
Working of KCC & Selection of Bridgehead Server
MODULE 6
Importance of Flexible Single Master Operation (FSMO) Roles
Understanding Forest level and Domain Level Roles
Deep Dive into the working of each Role
Perform Transfer of Schema Master, DNM Master
Perform Transfer of RID, PDC, Infra Master Operations
Impact on Domain when Role Holder DC is down
Perform FSMO Role Seizure
Active Directory Database Partition
Understanding of Schema & Configuration Partition
Understanding of Domain & Application Partition
MODULE 7
Need of Child Domain & Creation of Child Domain
Understanding of Multi-Domain Environments
Adding New Domain to Existing Forest
Understanding DNS Delegation & Forwarders
Understanding of Multi-Forest Environments
Creation of Trust between 2 Forest
Type of Trust and Nature of Trust
Type of Groups in Active Directory
Security & Distribution Group
Global, Domain Local & Universal Group
Understanding of Global Catalog Server
MODULE 8
Need of DNS & Active Directory Integrated DNS
Host File, DNS Cache & DNS Zone
DNS Forwarders, Delegation & Conditional Forwarders
DNS A record, SRV Record, CNAME Record
Recovering Active Directory from Disaster
Active Directory Recycle Bin
System State Backup of Domain Controller
MODULE 9
Installing DFS Role on the Server
DFS Namespace & Replication
How SYSVOL Replication Works
Installing DHCP Role on the Server
How DHCP Works
Understanding of APIPA & DORA Process
Configure Scope, Exclusion, Lease, Reservation in DHCP
Installing Windows Deployment Service (WDS) Role
Configure Boot Image & Install Image
Deployment of Operating System via Network (PXE Boot)
Understanding of Windows Server Update Service (WSUS)
MODULE 10
Installing IIS Role on the Server
Creation of Website
Performing DNS Round Robin
Installing NLB and Creation of Load Balancer
Need of Redundant Array of Independent Disk (RAID)
Configure RAID 0 - Stripping, RAID 1 – Mirroring, RAID 5 - Strip Parity
Understanding RAID 10 - Strip Mirror
Understanding & Need of Virtualization Technologies
MODULE 11
Need of Failover Cluster
Installing Failover Cluster (FOC) Role on the Server
Creation of SAN & ISCSI Disk
Perform Failover Cluster
Installing Active Directory Certificate Service (ADCS) Role on the Server
Creation of Certificate Server
Enterprise & Standalone CA
Creation of Domain Certificate using CA
Applying Certificate to the Webserver
MODULE 12
Understand the Need for Migration
Migrate Active Directory Domain from 2012 to 2016
Perform the Check after Successful Migration
Upgrade Forest & Domain Functional Levels
Resume Preparation and Interview Preparation Techniques
Download Server Administration Syllabus
Course Highlights

Since 2001, Making IT Experts by Experts
Duration: 15 Hours

(Vary as per your skill)

Course Fee: INR 700/-

(Hourly)

Individual Live Classes (1:1)
Training on Your Time, Any Where
Access to Recorded Videos
Practical Internship on Projects
Placement Assistance by our jobsNEAR.in
Training/Internship Certificate

Featured Courses
Related Courses
Server Administration Jobs in Delhi
Enjoy the demand
Find jobs related to Server Administration in search engines (Google, Bing, Yahoo) and recruitment websites (monsterindia, placementindia, naukri, jobsNEAR.in, indeed.co.in, shine.com etc.) based in Delhi, chennai and europe countries. You can find many jobs for freshers related to the job positions in Delhi.
System administrator
IT system administrator
Lead system administrator
Help desk [ system administer]
System and network administrator
Window server administrator
System admin
Senior operation administrator
Window server admin-administrator
Operating system administrator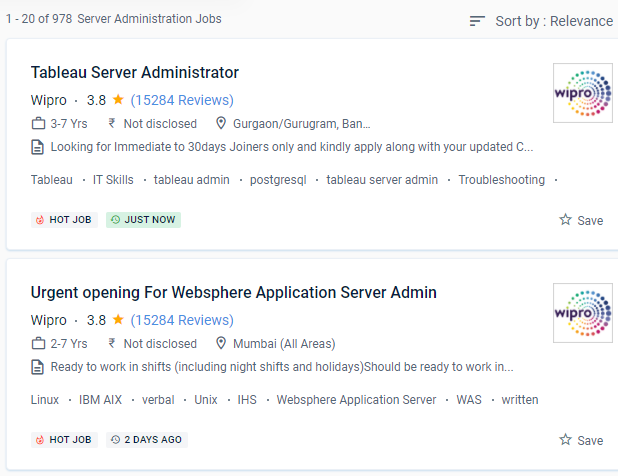 Server Administration Internship/Course Details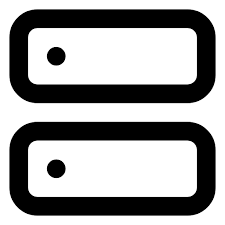 Server administration in Delhi is concerned with the installation and operation of the server.Server administration encompasses all aspects of computer networking, including setup, storage, monitoring, and troubleshooting. Get a good MNC job by taking a server administration course at the advanced level. The IT system administration course will prepare you to install and maintain Windows servers and mobile devices, as well as provide you with instruction and experience in Windows server, email, and mobile. Server serving is an important aspect of computer network operation in today's industry. Centralized control, easier file handling, easy backup and recovery, security, and scalability are all advantages of server administration. You will be able to download and install Windows Server, understand the various Windows Server editions, add a role to the server, build a domain controller, desorganizationtion unit structure, create a user account, understand and create a DHCP server, and create group policies objects GPOs by the end of this course, so join NESTSOFT training for an amazing learning experience. Server Administration requires knowledge of TCP/IP, DNS, LAN, and WAN to maintain server functionality. Python, PHP, Java, and other programming languages are commonly used by Server Administrators. .
Success Stories
The enviable salary packages and track record of our previous students are the proof of our excellence. Please go through our students' reviews about our training methods and faculty and compare it to the recorded video classes that most of the other institutes offer. See for yourself how TechnoMaster is truly unique.
Nestsoft technologies helped me shape my career in digital marketing, and thanks to the highly qualified and friendly trainers, I must say this is the best digital marketing internship you can get.
Most institutes offer only a custom based theory training .But nest soft offered different..soon I joined with them including training and internship .after 3 months training they given me lot of practical projects through internship .I recommend everyone Nestsoft who think about the serious practical training in Digital marketing and SEO
Myself Riya Sara Rejy. i would like to create a career in Facebook coaching, so I joined coaching at this institute. I learn many techniques from this institute. many thanks most Sreena miss for your effort.
Hi this is Muhammad. the faculties at Nestsoft is incredibly co-operative, They were responding to doubts terribly very effective way. i am happy with the trainers and with their training. In future, i'll proudly suggest my friends. I thank trainers for providing me the best coaching in Asp.net.
The experience of Nestsoft Technologies as an SEO / Digital Marketing intern was excellent. The faculty was a great help to us. They were highly qualified and specialized in subjects. Thank you for your help !!!!
I am very happy that I have chosen Nestsoft Technologies for my PHP training. It is a good experience to feel like being in an IT company while getting training. Thanks to Nestsoft Technologies and all its faculties for all the efforts.
There are many institutes that are trained in Seo , but Nestsoft Technology is different as they and provide a professional environment. This experience enabled me to work at an experience level, get a position as a Seo and successfully launch my career.
Nestoft Technologies offered practical-based training on this SEO / Digital Marketing and Project Exposure. The training experience was very different and unique from any training organization. Thanks to Nestsoft Technology for all the support and concern.
Best internships on python, machine learning, django
The classes are very good. The staff is well Experienced kind and friendly. I joined here with no knowledge of SEO, and now I have a better knowledge of digital marketing.
I did my internship at Nestsoft Technologies it had been extraordinary. I learned PHP, digital marketing and web designing. Thanks Nestsoft
I just did ten day course here on python machine learning and it was a good experience for me. Communication quality was great.
Well python class, machine language etc
I am very happy that I have chosen Nestsoft Technologies for my SEO/digital marketing training. It is a good experience to feel like being in an IT company while getting training. Thanks to Nestsoft Technologies and all its faculties for all the efforts.
Studying with Nestsoft Technology is valuable and increases my knowledge in digital marketing and SEO. Nestsoft Technology offers its students a blend of theory and practical experience. The quality of training is exceptional.
I am very happy that I have chosen Nestsoft Technologies for my digital marketing training. The training is very good exposure for freshers to become skilled. The trainers are also well-experienced working professionals of Nestsoft Technologies, which is the highlight of the training. Thank you all for your help..!!!!
I am very happy that I have chosen Nestsoft Technologies for my PHP training. It is a good experience to feel like being in an IT company while getting training. Thanks to Nestsoft Technologies and all its faculties for all the efforts.
Well python class, machine language etc
I had done seo digital marketing training on real websites from the expert of kerala. Best classes and friendly trainer.
I had a best knowledge in Python Machine Learning and best internship with them, these guys are providing best classes with a minimum time.
It was a great experience to be with Nestsoft Technology. Training has greatly helped me improve my knowledge. Thank you Nestsoft.
I am very relieved at the experience of learning at Nestsoft Technologies, which has helped me to bring my skills up and give me a better path, and I am very satisfied with the faculty that lead me to complete the course. Thanks to Nestoft
Hi, this is Abdul Rashad, I did PHP course at Nestsoft Technologies. I learned heaps from my trainer also I impressed with their teaching. They take categories with their time period comes. thank you so much.
Hii.My self Siddiq P.A, I have done Seo/Digital Marketing Training in Nestsoft Technologies. it absolutely was an awesome expertise for me. because my trainer gave full support for me and that they gave the explanation for all my doubts patiently. i would like to thank my trainer and also thanks Nestsoft Technologies.
We have achieved a very level of knowledge from here about python and Machine Language within a short period of time.This was very helpful for our future .
Very good teaching and best experience ever had. Friendly mam! Learned python machine learning.
List of Training Institutes / Companies in Delhi
Cross Section Interactive Pvt Ltd Address: 401, 4th Floor, Surya Kiran Building, 19, K.G. Marg, Connaught Place, New Delhi, Delhi 110001 Phone: 011 4373 2222 , Website: www.csipl.net/
SAM Web Studio- Web Designing Company Delhi, India Address: B 1/2, Dwarka Mor, Block A, Sewak Park, Dwarka, New Delhi, Delhi 110059 Phone: 099683 53570 , Website: https://www.samwebstudio.com/
Jabit Soft |Best Software Development Company|Website Designing in delhi| delhi software company Address: 507 5th Floor, Vishwa Sadan Building, Janakpuri District Center, Near Satyam Cineplexes, New Delhi, Delhi 110058 Phone: 098681 01181 , Website: jabitsoft.com/
Digital Marketing Services in Delhi | SEO Company in india - Brainwork Technologies Address: Block 70A, Building No. 18, Third Floor, Rama Road, Industrial Area, Opp Kirti Nagar Metro Station, New Delhi, Delhi 110015 Phone: 099719 55444 , Website: www.brainworkindia.net/
Digital Marketing Course Delhi | SEO Courses | PPC Training Institute in Delhi Address: S-521, School Block, Shakapur, New Delhi, Delhi 110092 Phone: 098714 30039 , Website: delhicourses.in/courses/internet-marketing-course-in-delhi-india.html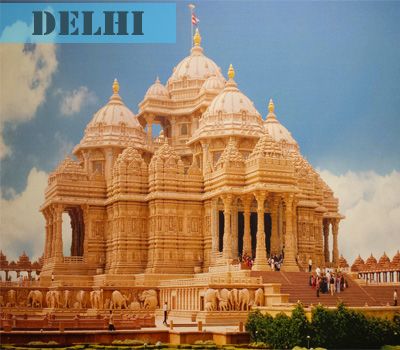 it is one of the largest metropolises in the country. Delhi is one of the fastest growing states in the country. 4 billion in 2015-16. 4 billion in 2015-16. 5 percent by the tip of 2017. At current costs, internet State Domestic Product (NSDP) of Delhi was US$ 78. Being as its hub, Nehru Position contains HOs i. e. so this is regarded as the primary technological innovation hub of Native Indian. .
Trained more than 10000+ students who trust Nestsoft
Join Now