Java J2EE Training by Industry Experts
Online Java J2EE Training in Pune
;
Our Training Process

Java J2EE
- Syllabus, Fees & Duration
Module 1: Basics of Java
Introduction
History
Features of Java
Types of Java Application
Difference between JVM,JRE and JDK
Simple Java Program
Variables and Data types
Methods-Declaration, definition and Calling
Packages
Access modifiers
Reading from Console using Scanner
Java Arrays
Operators and Operator precedence
Conditional and Looping Statements
Basic Java Programs
Module 2: String Handling in Java
String class Introduction
Immutable String
Methods of String Class
String Comparison
String Concatenation
String Buffer Class
String Builder Class
Mutable String
toString method
Module 3: Wrapper Classes
Wrapper classes
Autoboxing
Unboxing
Module 4: OOPS Concepts
OOPs Concepts Introduction
Object and class
Static keyword
Constructor
this keyword
Inheritance
Aggregation and Composition
super Keyword
Interface
Polymorphism
Module 5: Exception Handling
Exception Handling Introduction
try and catch block
Multiple catch block
Nested try
finally block
throw keyword
throws keyword
Exception Handling with Method Overriding
Custom Exception
Module 6: Multithreading
Multi threading Introduction
Multi threading vs Multiprocessing
Life Cycle of a Thread
Creating a Thread
Thread Class
Runnable Interface
Thread class methods
Thread Scheduler
Thread Priority
Daemon Thread
Thread Pooling
Thread Group
Performing multiple task by multiple thread
Module 7: Synchronization
What is Synchronization and Why?
Synchronized method
Synchronized block
Static synchronization
Deadlock
Module 8: Garbage Collection
What is garbage collection?
finalize method
Module 9: AWT and Event Handling
AWT Controls
Event Handling by 3 ways
Event classes and Listener Interfaces
Adapter classes
Module 10: Layout Managers
Basics of Swing
Swing features
Advantages of swing over AWT
Swing Components
Digital Watch
Graphics in swing
Displaying Image
Open Dialog Box
Drawing paintings
Creating applications
Module 11: Applet
Applet features
Life Cycle of Applet
Graphics in Applet
Displaying image in Applet
Animation in Applet
Event Handling in Applet
J Applet class
Painting in Applet
Creating Animations
Module 12: Collection
Collection Framework
Array List class
Linked List class
List Iterator interface
Hash Set class
Linked Hash Set class
Tree Set class
Priority Queue class
Map interface
Hash Map class
Linked Hash Map class
Tree Map class
Hash table class
Module 13: Java Updated Features
Functional Interface and Lambda Expression
Java Stream API for Bulk Data Operations on Collections
Java Time API
Module 14: SQL
Introduction
Basic SQL Queries
DDL,DML and DCL
Aggregation in SQL
Joining tables
Subqueries
Module 15: JDBC
JDBC Drivers
Steps to connect to the database
Connectivity with Oracle, MySQL and Access
Driver Manager
Connection interface
Statement interface
Result Set interface
Prepared Statement
JDBC New Features
Mini Project using swing and JDBC
Module 16: Web Technology
HTML 5
Introduction to HTML
HTML Tags
Lists
Forms creation
Creating tables
Managing home page
CSS
Introduction to CSS
Three ways to use CSS
CSS selectors
CSS Properties
Designing website
JavaScript
Introduction to JavaScript
Syntax
Three ways to use JavaScript
Variables
Data types
Operators
Conditional and Looping Statements
Functions
Working with events
Client-side Validation
jQuery
Introduction to jQuery
jQuery syntax
Example program
jQuery selectors
jQuery Effects
jQuery Events
Validation using jQuery
jQuery Forms
jQuery Examples
AJAX
Introduction to AJAX
Servlet and JSP with AJAX
Interacting with database
Module 17: Server Side Programming
Servlet
Servlet introduction
Basics of Web
Servlet vs CGI
Servlet API
Servlet Interface
Generic Servlet
Http Servlet
Servlet Life Cycle
How servlet works?
Servlet Request
Servlet Request methods
Registration example with DB
Request Dispatcher
send Redirect
Servlet Config
Servlet Config methods
Attribute
Session Tracking
URL Rewriting
HTTP Session
JSP
Basics of JSP
Life cycle of JSP
JSP API
Scripting elements
scriptlet tag
expression tag
declaration tag
9 Implicit Objects
Directive Elements
Exception Handling
Action Elements
Expression Language
MVC in JSP
JSTL
Custom tags
Interacting with database
Project Development in JSP
Module 18: Hibernate
Hibernate Configuration using XML and annotation.
Hibernate CRUD operation
Hibernate Query Language
Mapping One to One
One to many
Many to one
Many to Many
Fetching types
Module 19: Spring Framework
Basics of Spring
Spring with ORM
Spring 3 MVC
Login and Logout Application
CRUD Functions
Main Project
Spring Boot
Download Java J2EE Syllabus
Course Highlights

Since 2001, Making IT Experts by Experts
Duration: 100 Hours

(Vary as per your skill)

Fee Range: ₹800 to ₹1200

(Hourly)

Individual Live Classes (1:1)
Training on Your Time, Any Where
Access to Recorded Videos
Practical Internship on Projects
Placement Assistance by our jobsNEAR.in
Training/Internship Certificate

Featured Courses
Related Courses
Java J2EE Jobs in Pune
Enjoy the demand
Find jobs related to Java J2EE in search engines (Google, Bing, Yahoo) and recruitment websites (monsterindia, placementindia, naukri, jobsNEAR.in, indeed.co.in, shine.com etc.) based in Pune, chennai and europe countries. You can find many jobs for freshers related to the job positions in Pune.
Full Stack Developer
J2EE-Developer
Java Architect
Java Analyst
Java AWS Lead/Expert
Backend Developer
Software Engineer
Solutions Architect
Application Support Specialist
Server Development Engineer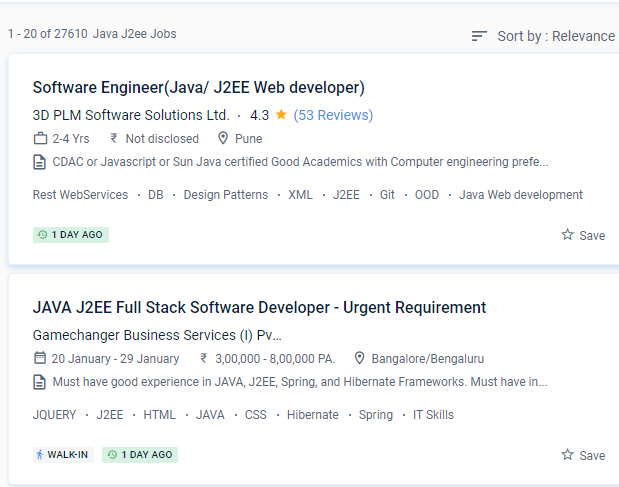 Java J2EE Internship/Course Details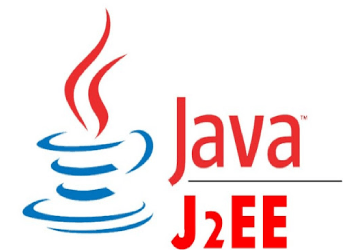 Many of the services that applications require to be dependable (such as group action management and monitoring) are built into J2EE.Java is a high-level object-oriented programming language and a powerful software package platform that is easy to conceive, create, compile, and debug. These APIs will be used by developers to create business computing apps. Java is now widely used in a variety of applications, including mobile phones, business enterprise programmes, and web systems. The J2EE application itself is made up of components such as data access modules, Web presentation modules, and business logic modules. AnIs anyone interested in pursuing a career in programming, as we cover everything from the fundamentals to advanced job-related issues. Our Java training classes are organised in a way that makes learning easy and enjoyable. We provide a variety of java courses, ranging from beginner to advanced, to help you carve out a career as a java developer. If you decide to pursue java as a career, you will have a plethora of options.
Success Stories
The enviable salary packages and track record of our previous students are the proof of our excellence. Please go through our students' reviews about our training methods and faculty and compare it to the recorded video classes that most of the other institutes offer. See for yourself how TechnoMaster is truly unique.
Very good teaching and best experience ever had. Friendly mam! Learned python machine learning.
Hi this is Muhammad. the faculties at Nestsoft is incredibly co-operative, They were responding to doubts terribly very effective way. i am happy with the trainers and with their training. In future, i'll proudly suggest my friends. I thank trainers for providing me the best coaching in Asp.net.
Well python class, machine language etc
I am very happy that I have chosen Nestsoft Technologies for my PHP training. It is a good experience to feel like being in an IT company while getting training. Thanks to Nestsoft Technologies and all its faculties for all the efforts.
The classes are very good. The staff is well Experienced kind and friendly. I joined here with no knowledge of SEO, and now I have a better knowledge of digital marketing.
I had a best knowledge in Python Machine Learning and best internship with them, these guys are providing best classes with a minimum time.
Hii.My self Siddiq P.A, I have done Seo/Digital Marketing Training in Nestsoft Technologies. it absolutely was an awesome expertise for me. because my trainer gave full support for me and that they gave the explanation for all my doubts patiently. i would like to thank my trainer and also thanks Nestsoft Technologies.
I am very happy that I have chosen Nestsoft Technologies for my SEO/digital marketing training. It is a good experience to feel like being in an IT company while getting training. Thanks to Nestsoft Technologies and all its faculties for all the efforts.
Nestsoft technologies helped me shape my career in digital marketing, and thanks to the highly qualified and friendly trainers, I must say this is the best digital marketing internship you can get.
I just did ten day course here on python machine learning and it was a good experience for me. Communication quality was great.
Best internships on python, machine learning, django
Well python class, machine language etc
I am very happy that I have chosen Nestsoft Technologies for my PHP training. It is a good experience to feel like being in an IT company while getting training. Thanks to Nestsoft Technologies and all its faculties for all the efforts.
I did my internship at Nestsoft Technologies it had been extraordinary. I learned PHP, digital marketing and web designing. Thanks Nestsoft
We have achieved a very level of knowledge from here about python and Machine Language within a short period of time.This was very helpful for our future .
I am very happy that I have chosen Nestsoft Technologies for my digital marketing training. The training is very good exposure for freshers to become skilled. The trainers are also well-experienced working professionals of Nestsoft Technologies, which is the highlight of the training. Thank you all for your help..!!!!
The experience of Nestsoft Technologies as an SEO / Digital Marketing intern was excellent. The faculty was a great help to us. They were highly qualified and specialized in subjects. Thank you for your help !!!!
It was a great experience to be with Nestsoft Technology. Training has greatly helped me improve my knowledge. Thank you Nestsoft.
Hi, this is Abdul Rashad, I did PHP course at Nestsoft Technologies. I learned heaps from my trainer also I impressed with their teaching. They take categories with their time period comes. thank you so much.
Myself Riya Sara Rejy. i would like to create a career in Facebook coaching, so I joined coaching at this institute. I learn many techniques from this institute. many thanks most Sreena miss for your effort.
I had done seo digital marketing training on real websites from the expert of kerala. Best classes and friendly trainer.
I am very relieved at the experience of learning at Nestsoft Technologies, which has helped me to bring my skills up and give me a better path, and I am very satisfied with the faculty that lead me to complete the course. Thanks to Nestoft
Studying with Nestsoft Technology is valuable and increases my knowledge in digital marketing and SEO. Nestsoft Technology offers its students a blend of theory and practical experience. The quality of training is exceptional.
There are many institutes that are trained in Seo , but Nestsoft Technology is different as they and provide a professional environment. This experience enabled me to work at an experience level, get a position as a Seo and successfully launch my career.
Nestoft Technologies offered practical-based training on this SEO / Digital Marketing and Project Exposure. The training experience was very different and unique from any training organization. Thanks to Nestsoft Technology for all the support and concern.
Most institutes offer only a custom based theory training .But nest soft offered different..soon I joined with them including training and internship .after 3 months training they given me lot of practical projects through internship .I recommend everyone Nestsoft who think about the serious practical training in Digital marketing and SEO
List of Training Institutes / Companies in Pune
Graphinet Solutions Address: JP Naik Rd, Sr. No. 128/2 , Plot No. 5, Rupanagari Housing Society, Kothrud, Pune, Maharashtra 411029 Phone: 098901 95015, website: www.graphinetmedia.com
Parvatibai Genba Moze College of Engineering Address: Gate No. 2181, Wagholi, Pune, Maharashtra 412107 Phone: 020 2705 0937, website: www.pgmozecoepune.org
Indira Institute of Aircraft Engineering Address: Sr.No.37, Manjari Farm, Near Agri culture College, Pune - Solapur Road, Pune, Maharashtra 412307 Phone: 020 6401 5992, website: www.iiaepune.org

Software Companies in Pune
Omniscient Software Pvt. Ltd. Address: 801/802, Castlemaine IT Park, next to Ruby Hall Hospital, Bund Garden Road, Agarkar Nagar, Pune, Maharashtra 411001 Phone: 020 2616 0814, website: www.omniscient.co.in
The Web Consultants - Best SEO & Digital Marketing Company in Pune,MH,India Address: Krushna Puja Apts,Flat No 1,Survey No 51, Opp Kinder Planet, Dhanori Road, Bhairav Nagar, Pune, Maharashtra 411015 Phone: 080878 97007, website: www.thewebconsultants.net

Pune is the various speedy racing cities topping the indian software program enterprise. placed in close proximity to the economic capital, Pune india is one of the most favorite job destinations. The offshore software development employer Pune, india is a main source for BPO businesses, Pune, provider carriers, freelancers and specialists. Pune witnessed the trade of financial system through the brand new monetary guidelines which displays the growth of statistics technology sectors in late Nineties. huge scales it parks are hooked up at Hingewadi, Talawade, Kharadi and Hadapsar in 1999, Infotech park become set up at Hingewadi - it metropolis. There are moreover offerings like web design, digital marketing, technical education and software services. . .
Trained more than 10000+ students who trust Nestsoft
Join Now